→welcome to
yoochunlisting!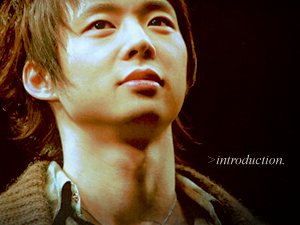 hello, and welcome again to the official lj fanlisting for ~park yoochun-- a dorky, lovable and downright-too-sexy-for-our-own-good member of ~dong bang shin ki. the general purpose of this fanlisting is to hopefully gather together all the yoochun fans scattered across lj and unite us all to show just how very loved he is by every single one of us. 8DD
for those of you who don't know who park yoochun is (GASP!!!!), i've put together a small profile of him
→here←
→fanlisting founder.
→jamie //
jumoon
→craziblonde_malfoy [@] yahoo [dot] com
if you have any questions, feel free to email me or message me through lj. my yim handle is the address listed above, should you want an immediate answer.
→rules.
→you don't have to join to be a part of the fanlisting, but it'd be great if you could; that way we're listed in the lj database. :DD
→obviously there will be no bashing of park yoochun. if you don't like him, then this is not the place for you.
→please, please do not bash other artists as well. i'd like to keep this a nice, drama-free place for everyone.
→this is a FANLISTING. which means there will be no other posts save for the ones i make.→requirements.
→♥park yoochun~
→♥dongbangshinki~
→application form here.
→affiliates.
yoochunlisting
is a part of
saranglists
, so please make your way over there and see what other fanlistings there are to join! if you're anything like me, you're going to find about 89474387 more you'll want to be a part of, haha.
→
saranglists
→
dbsklist
→
jaejoonglist
→
junsulist
→
changminlist
if your comm has anything to do with dong bang shin ki or park yoochun, then leave a comment here and i'll definitely affiliate with you. :)))